Storm season is coming around again so it is time to batten down the hatches and make sure your home is safe. You don't need to worry about anything when you are fully prepared for the worst weather. Come rain or hail, if you follow this simple guide you and your family will be as ready and safe as you can possibly be.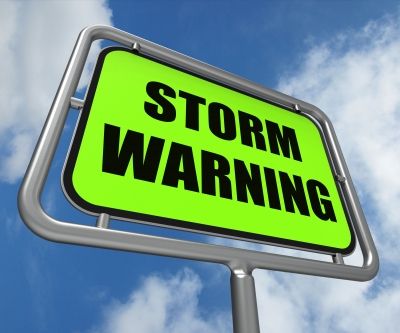 Storage
Due to the high winds that come with storms and cyclones, it is important to take any loose outdoor objects, furniture or toys, and store them in a safe place. If you have a shed on your property, you may find pallet racks are a useful way to store your outdoor furniture. You can find pallet racks solutions with storage supply companies like Elbowroom . For pool owners, plastic furniture can be submerged under the pool, keeping it safe from the wind.
Check Your Roof
Now that we are coming into storm season it is important to check your roof, as most damage occurs here. First off you will need to clear out the gutters. Make sure none of the down pipes are clogged up and the water has somewhere to escape to. If water can't flow away your gutters can become too heavy and break off. Once the gutter is clean, you need to check the roof tiles and replace any that are loose, or cracked so no water is able to leak through into your home.
Supplies
It is possible that you could get stranded at home without food or drinking water, so think about what supplies you could need if the worst happens. Clean drinking water is your most important commodity. Stock up on containers to hold the water and if a severe storm hits, fill them up along with any buckets and bathtubs. If you think your home may be at risk buy some canned foods next time you go shopping. You will also need some sandbags to block off the drains, preventing any sewage backwash caused by flooding. Be sure to have an emergency kit in your home, containing candles, matches, medicine, radio transmitters, bandages, torch, batteries, utility knife and copies of identification.
General Maintenance
As the saying goes, the best solution is prevention, so to help avoid serious damage to your property a good amount of general maintenance is recommended. Look around your property at any overhanging trees that could be a threat to your house or nearby power lines. If trees are overhanging power lines call professional tree loppers to remove it, due to the risks.
For houses with a flood risk it is important to store any chemicals well above ground level and consider having any low power points raised up high. When storms come, place any precious furniture or other items above flood level if possible. To prevent broken glass during high winds, protect them from debris with metal shutters or screens. Remember to put tape on any windows at risk of being broken.
These are just a few quick and easy steps you should be taking to make your house ready for storm season. What steps do you take to keep your home safe?
*Image source: Stuart Miles at FreeDigitalPhotos.net