It seems now that whenever you turn on the TV, you're likely to find at least one property renovation program. But there aren't many shows that look at the process of building a home from scratch. So to help you figure out which one is right for you, let's take a look at how these two options compare to one another.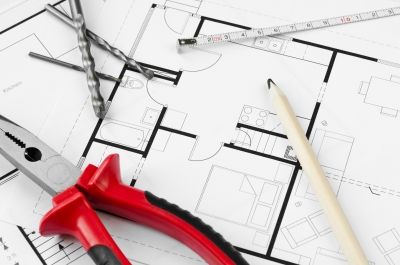 Cost
Of course the cost of renovating is entirely dependent on how big or small your renovation project is. If you're only planning to do relatively small projects, like the kitchen or bathroom, then the overall cost will undoubtedly be less than building. However, if you're looking at renovating an entire property, then the costs will more than likely hit the six figure mark – unless you're a carpenter or very competent DIYer and will do most of the work yourself.
When undertaking large-scale renovations, one of the key financial considerations is the value of the land the property occupies. One of the most common mistakes made by renovators is to over-capitalise. But what does this mean? In a nutshell, by over-capitalising, you spend more than the returns you'll make from selling the property.
However, if you plan on renovating and living in your home for years to come, the situation looks a little healthier. That said, you will always be limited by the maximum sales price (the 'ceiling' price) in your local area. This price should always guide the scope and expense of your renovations. However, renovations can be a little tricky here. While you might set your budget at $30,000, once you start demolishing the areas to be renovated, you might uncover more than you expected for budgeted for. An example of this is termite or water damage to structural timbers, which will invariably cost you a whole lot more than you've allowed for.
Building is an entirely different proposition. Obviously there are less than reputable builders out there who will not deliver what they said they would, fail to complete the project on time or will hit you up for unforeseen (and unbudgeted) expenses.
On the flipside, there are also builders with solid expertise and reputations in home construction, such as Coral Homes . Not only do these professional companies often offer fixed price contracts, but they will have an arranged project timeline with you, so you have a completion date to get excited about!
Convenience
While money is a major consideration, it's not the only one. People often have glorified views of renovating, particularly given the way it is portrayed in lifestyle programs. But the reality is altogether different. For example, you might be stoked that underneath your stained, 1980s shag-pile carpet, is a beautiful hardwood floor. While the renovation shows make it look easy, it isn't and should be done by a professional. This isn't cheap and more importantly, you need to move all of your furniture out of your home and vacate your property for at least five days to allow the toxic fumes from the varnish to dry and dissipate.
Now imagine the inconvenience of large scale renovations that involve knocking down walls, ripping out bathrooms and kitchens. Doing it bit by bit makes things more manageable, but bigger projects may require you to have significant amounts of time away from your home.
The decision on whether to build or renovate is a personal one and is influenced by more than just the considerations presented in this article. However, cost and convenience are important factors that should be key in your decision-making process.
Image from tiramisustudio at freedigitalphotos.net
Welcome to the $150 Amazon Gift Card Giveaway Event
Sponsored by Pure Crafted Beds
Hosted by Mom Powered Media & Conservamom
Pure Crafted Beds is a company who knows Beds. Their factory was started in 1946 and is still owned by the original family and into their third generation! They began by renovating porch furniture and mattresses in the 1940's, to a modern manufacturing facility located in Lansing, Michigan. They've been in business close to 70 years and have brought forth an amazing selection of products that will give you a great night's sleep. Your comfort is their business!
Each bed is "hand-crafted" and they always strive to provide the best value for each customer, whether at $299 or $2,999.
They carry two basic mattresses the TruEssence and TruSlumber. The only difference between the two beds is the core foam layer, and the TruSlumber bed does not have a base layer of foam. This helps reduce the overall height of the bed, which makes it perfect for children, bunk beds, and other situations where a thinner mattress is required!
However the unsurpassed quality remains the same in both!
One of the most fantastic features of Pure Crafted Beds is their use of an innovative product called the Eco Shield Cover. Every Pure Crafted Bed has this unique EcoShield cover. This amazing cover is resistant to bed bugs, dust mites, mosquitoes, and moths… all without any artificial chemicals!
The proprietary EcoShield fabric is infused with Geraniol, a natural plant extract which provides all natural protection. Many anti-bed bug and dust mite products on the market today use synthetic chemicals. EcoShield® is the first product that is truly 100% natural, with no artificial chemical additives that uses a unique micro-capsule delivery system for long-lasting effects! Through a special process the Geraniol is infused into our EcoSheild® cover, and is slowly released over time as movement occurs on the mattress.
EcoShield® is Scientifically Proven!
To find out more on how these beds are made head over to the video below! Sleep equals health, Don't trust your sleep to just any mattress.
Thanks to Pure Crafted Beds One winner will get a $150 Amazon Gift card.
Giveaway ends

August 19 at 11:59pm

, open to US ages 18+. Only one entrant per household, per address. Winner is subject to eligibility verification.
Enter using the giveaway form below.
Good luck!
Disclaimer: The participating bloggers, including Family Life by Fe, were not compensated for this post. No purchase is necessary to enter. One entrant per household, per address. Void where prohibited by law. Winner(s) will be contacted by email and have 48 hours to respond before a new winner is chosen. The sponsor(s) will be responsible for product shipment to winner(s) of this sweepstakes. This event is in no way administered, sponsored, or endorsed by, or associated with, Facebook and/or Twitter, Google, Pinterest. Contact Elia@mompoweredmedia.com if you have any additional questions or comments.