It seems now that whenever you turn on the TV, you're likely to find at least one property renovation program. But there aren't many shows that look at the process of building a home from scratch. So to help you figure out which one is right for you, let's take a look at how these two options compare to one another.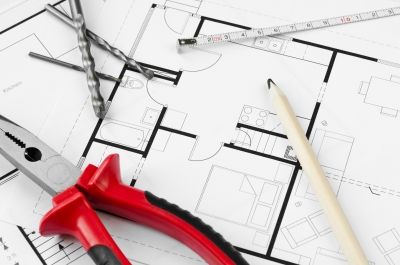 Cost
Of course the cost of renovating is entirely dependent on how big or small your renovation project is. If you're only planning to do relatively small projects, like the kitchen or bathroom, then the overall cost will undoubtedly be less than building. However, if you're looking at renovating an entire property, then the costs will more than likely hit the six figure mark – unless you're a carpenter or very competent DIYer and will do most of the work yourself.
When undertaking large-scale renovations, one of the key financial considerations is the value of the land the property occupies. One of the most common mistakes made by renovators is to over-capitalise. But what does this mean? In a nutshell, by over-capitalising, you spend more than the returns you'll make from selling the property.
However, if you plan on renovating and living in your home for years to come, the situation looks a little healthier. That said, you will always be limited by the maximum sales price (the 'ceiling' price) in your local area. This price should always guide the scope and expense of your renovations. However, renovations can be a little tricky here. While you might set your budget at $30,000, once you start demolishing the areas to be renovated, you might uncover more than you expected for budgeted for. An example of this is termite or water damage to structural timbers, which will invariably cost you a whole lot more than you've allowed for.
Building is an entirely different proposition. Obviously there are less than reputable builders out there who will not deliver what they said they would, fail to complete the project on time or will hit you up for unforeseen (and unbudgeted) expenses.
On the flipside, there are also builders with solid expertise and reputations in home construction, such as Coral Homes . Not only do these professional companies often offer fixed price contracts, but they will have an arranged project timeline with you, so you have a completion date to get excited about!
Convenience
While money is a major consideration, it's not the only one. People often have glorified views of renovating, particularly given the way it is portrayed in lifestyle programs. But the reality is altogether different. For example, you might be stoked that underneath your stained, 1980s shag-pile carpet, is a beautiful hardwood floor. While the renovation shows make it look easy, it isn't and should be done by a professional. This isn't cheap and more importantly, you need to move all of your furniture out of your home and vacate your property for at least five days to allow the toxic fumes from the varnish to dry and dissipate.
Now imagine the inconvenience of large scale renovations that involve knocking down walls, ripping out bathrooms and kitchens. Doing it bit by bit makes things more manageable, but bigger projects may require you to have significant amounts of time away from your home.
The decision on whether to build or renovate is a personal one and is influenced by more than just the considerations presented in this article. However, cost and convenience are important factors that should be key in your decision-making process.
Image from tiramisustudio at freedigitalphotos.net