Archive for February, 2014
It's the weekend once again and I can't believe that it's already the last weekend of February. Before we know it, another school year is over for the kids and of course, it means vacation time for them. So, what are your plans for the weekend? Whatever your plans are, I hope you'll get to spend as much quality time as you can with your family (and also get as much as rest as you need after that hectic week at work).
Our family is particularly excited because we are going on a trip this week; it'll be some sort of a reunion for us. Our youngest brother, who has been working overseas for the past two years, is here on a one month vacation and he has decided to treat the whole family to a three-day vacation to the beach. It'll actually be the first time that we're going on a trip as a family so we're really looking forward to it not just because we are going to a world famous tourist destination but mostly because of the opportunity to spend time together as a family. This weekend will be about preparing everything that we will need and making sure that we will not forget anything especially our travel documents. Although our kids will prepare their own stuff, I will be double checking  them to make sure that they will bring only what's necessary and that they wouldn't forget any of their personal stuff. Knowing them, I'm sure they will only start packing a day or two before our trip. They are mostly likely to spend their Saturday playing video games (since they are only allowed to use their XBox during weekends) or surfing online (probably chatting with their friends on Facebook, watching the latest movie trailers online or browsing online to look for items that interest them like the excellent epiphone electric acoustic guitar that they saw at an online music store).
Anyway, I hope that however you decide to spend your weekend, I hope you get to spend it with the people that matter most to you.
It's always helpful to know how to make things, or how to fix things when they break. Those who are in the know seem to take it as second nature – they make it seem easy. But for those of us who have absolutely no idea what to do when a pipe starts leaking, there could be nothing more confusing. Thinking about becoming a handyman? Well, here is a guide to help you along the way.
Start Small
The best idea is to start small, really small. Don't go out there and assume you can fix everything, because the chances are you can't. By starting small and working your way up, you are more likely to succeed at what you do and save yourself lot of frustration along the way. Begin with the most basic of tasks, replace screws when needed, and fix up the paint job around the house. Don't get to caught up in the idea of fixing everything that you try something beyond your skills and end up making things a whole lot worse.
Stock Up
This doesn't mean that you have to go out there and spend a ridiculous money on expensive tools. It just means that you need to stock up on the basics. Make sure that you've got enough nails, screws, screwdrivers and hammers – a good saw can come in handy too. The basic things are what you're going to need the most of, especially when just starting out. So, stock up as much as possible. Everything else you can work out and buy along the way.
Research
Research is a vital step in learning anything, especially when you're going to be practising something you're not very skilled at. If you've got a friend who's in the know, it's a good idea to talk to them and see if they can give you some simple lessons. Offer to help them out if they need anything repaired, you're likely to learn some valuable skills.
Another way to learn is to read. Look up some articles on the internet, or watch some Youtube videos of others doing what you want to do. There's nothing better than gaining a range of different opinions, so make sure that you don't just read one article and assume you know it all. Different people have different techniques. Only by researching a range of different ideas will you find the way that works for you.
Don't rush into things. Take your time and see how things go. This is the best way to make sure that you succeed, and don't get too frustrated with yourself if things don't turn out the way you planned. Remember to research, talk to friends, read, and stock up on essential supplies. Never forget that safety is the key. Never put yourself in harm's way. If you're going to be doing anything like welding, be sure that you have the appropriate welding safety equipment .
*Image source: vectorolie/FreeDigitalPhotos.net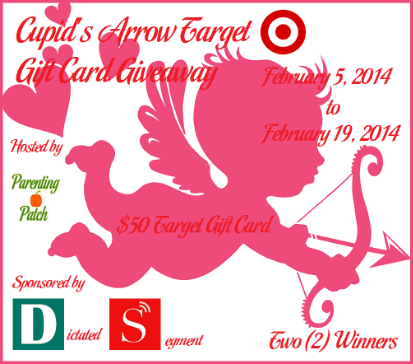 Welcome to the Cupid's Arrow Target Gift Card Giveaway sponsored by Dictated and Segment and hosted by The Parenting Patch!
February 14 is approaching fast. Valentine's Day will be here and gone before you know. In celebration of the holiday love, how would you like to win $50 straight from Cupid's arrow to spend at Target?
Two (2) lucky readers of The Parenting Patch, Dictated, Segment, and Family Life by Fe will each win one (1) $50 gift card to Target.
To enter for your chance to win the Cupid's Arrow Target Gift Card Giveaway, simply use the following Rafflecopter form.
Good luck! Happy Valentine's Day!
The Cupid's Arrow Target Gift Card Giveaway is open worldwide. An international winner will receive $50 via PayPal in lieu of the specified prize.
The Cupid's Arrow Target Gift Card Giveaway ends at midnight CST on February 19, 2014.
Two winners will be chosen at random via Rafflecopter. The winners will be sent an email and will have forty-eight hours to respond. If no response is received within forty-eight hours, another winner will be chosen. The Parenting Patch and other participating blogs are not responsible for prize fulfillment.
In any music studio or live performance setup, one of the most common devices that can be found is a sound mixer. Sound mixers are generally used to mix two or more audio devices and provide one or more output audio signal. Most of today's mixers, such as the mackie mixer at guitar center, include additional features that do not only provide better sound quality but also allow its users to enhance sound using other effects, create monitor feeds, combining sounds from various sources and creating a stereo mix of preferred sounds or signals.
Sound mixers come in a variety of designs and sizes, from portable units that can be brought in different locations, to big units that are suitable for music studio setups. They are also distinguished by the number of channels that they have. If you are in the market for a sound mixer, it is best if you determine first how many channels you would need so that you'll be able to streamline your choices. Professional sound mixers are also available at a more affordable price than before because of the wide variety of brands and models that are available in the market today. Operating a sound mixer may seem intimidating at first because of its different buttons and controls but once you understand how they work, you will be able to maximize its use and create the sound mix that you want.