Archive for January, 2013

It's Raining Money Event
Hosted by: Mom Powered Media
Prize: $1,000 Cash {Paypal or Visa}
Event dates: 4/1 – 5/1
Free Blogger Event:
Sign Up HERE
Like most parents, we work hard to ensure that our kids go to good schools. We know that the academic standards that their school has can make a huge difference with the level of education that our children will have. We also made sure that our children will learn the right values not just through the subjects that they have but also with the values that they learn from their teachers and the activities that they engage in.
We also encourage our children to join school clubs and organizations as well as other school competitions because we know that they can benefit from them. So what are the benefits of joining school clubs and competitions? Here are some of them:
· Self-confidence – When students join competitions to represent their class or club, their level of confidence increases. Being chosen as a representative means that the whole class or organization believes in his/her abilities. Winning an award such as Awards and Gifts R Us trophies and plaques, can give them a sense of pride and accomplishment knowing that all their hard work has paid off.
· Mental and Physical Development – Developing an active lifestyle and learning positive habits are just some of the things that students can learn from school organizations and by joining school competitions.
· Stress Relief and Positive Outlet – Students are very active and lots of energy. Participating in clubs encourages them to use that energy in a more positive way, and prevents them in engaging in behaviors that are not suitable for them. They instead use that energy and creativity in ore productive ways.
· Meet new friends – When a student join a school organization, he is able to expand his social circle. He is no longer limited to the people that he meets inside the classroom. Through these organizations, he gets to meet other students that have similar interests as him.
Those that were mentioned are just some of the benefits of joining clubs. The school and the parents should work hand in hand in making sure that through these organizations, the students will not only discover their talents and enhance their skills but also learn how become productive members of the community. They must continue developing programs that will help them achieve these goals.
* This is a sponsored post however, all the points and views are my own.
Razor burns, ingrown hairs, razor bumps, cuts and skin irritation are just of the shaving problems that most men are familiar with. Since shaving is part of their regular grooming regimen, they know how these common shaving problems can cause discomfort. My husband says that razor bumps or ingrown hairs are not only unsightly but are embarrassing to have as well. He said that there should be a brotherhood of shaving so that those who are experts in shaving can share their shaving tips and techniques to those who are still trying to learn the proper shaving technique.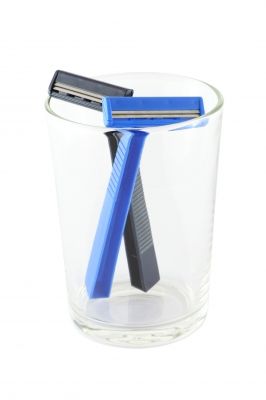 To avoid these common shaving problems and to get that perfect shave every time, using the right shaving tools is important. A sharp quality razor is an important tool that men should invest in. Although disposable razors are cheaper and are readily available, a quality razor still provides a clean close shave. Cheap razors have blades that easily get blunt. When you shave using blunt razors, you end up getting cuts and razor burns because you have to use more pressure just to get that close shave. To avoid skin irritations, using facial cleansers and moisturizers should also be a part of your shaving routine. Using a facial cleanser before shaving can remove the dirt and grime that may have accumulated on your face. It also helps prepare the skin and soften your facial hair. Using a moisturizer is also important so that your skin can remain soft and smooth even if you have to shave regularly. It is important, however, that you use only products that do not contain any harmful chemicals that may cause skin irritation. My husband has sensitive skin which is why he makes sure that the only uses shaving creams and lotions that have natural ingredients. His face will immediately show signs of irritation when he uses products that have harmful chemicals. He has actually made it a habit of reading the product labels first before buying them. He knows that with the proper shaving tools and skin care products, he will not only get that clean close shave every time, but he will also have a skin that is free from irritation.
*This is a sponsored post however, all the points and views are my own.
Image courtesy of Keerati at FreeDigitalPhotos.net
We Welcome you to the Maggie Bag and Sibu Omega 7 Chocolates Giveaway
The Giveaway is Hosted By
Oh! My Heartsie
Thank you to My Co-Hosts For Helping Me To Sponsor
|
Giveaway Promote
|
Welcome to My Kitchen
|
Capris Coupons
|
GiaVanne's Gems
| 
| To Sew With Love | Sweeping The USA |
Mommies Point of View
Participating is Easy, just follow the directions in the Rafflecopter.
This stylish and high quality bag will surely be a great addition to your wardrobe.
One Lucky Winner Will Win a
Maggie Bag
Butterfly Bag as Pictured and
Sibu Omega 7 Chocolates
Starts 1-23 and Ends at 11:59 on 2-6
Should You Decide To Purchase From Maggie Bags Receive:
Discount Code:
Heartsie15
This code is for our readers and gives 15% off

Maggie

Bags
Premier Line
until Feb. 28, 2013. This code is case-sensitive.
I received the
Maggie Butterfly Bag
in pink and brown and I was amazed to find our how well constructed the bag was. It will work well for traveling, it has many pockets inside to store things like cosmetics and traveling essentials.
Read More 
Maggie Bags Review