Archive for October, 2012
Going on a road trip with your family can be a great way to discover new places, revisit old favorites and spend some quality time together as a family. But without careful planning and proper preparation, it can be a stressful and frustrating experience for everyone.
Below are some travel essentials that you need to make your family road trip fun and enjoyable:
· Maps. Before the actual trip, it is best if you study carefully the route that you are planning to take. Don't forget to bring your map with you so that you have something to refer to especially when you have to look for another route or if you want to explore other areas that are not originally in your plan. A GPS is also very useful. If your car doesn't come with its own GPS, you can buy a separate one for your vehicle. Make sure that you have checked the weather conditions as well.
· Mobile phones and other electronic gadgets. Children can get restless and they get easily bored especially if you are on the road for hours. A laptop or a handheld gaming device can keep them entertained. A mobile phone can be very handy especially during emergency situations. Make sure that you don't forget to bring your phone charger with you. You can also bring a portable music player so that you can listen to your favorite music while you're on the road.
· Snacks and beverages. Someone may suddenly get hungry and there may not be a food stall nearby. Besides, eating out can be very expensive and bringing your own food is practical and convenient.
· Toiletries and first aid kit. The public restroom that you see may not have all the essentials that you may need. You can bring tissues, paper towels and hand sanitizers. Don't forget to bring your first aid kit so that you can easily treat cuts and bruises and medicines such as those for stomach aches and fever.
· Camera. Have you camera ready because you may come across sceneries that you don't usually see. Take as many creative pictures as you want. These photos are a great way to document all the wonderful places and people that made your trip memorable.
· Other must haves. Wallets, IDs, cash and credit cards may be pretty basic stuff but they are sometimes overlooked especially when everyone is in a hurry and would want to get the road as soon as possible. Sunglasses and a tube of sunscreen lotion should also be on the list.
Planning your road trip carefully and making sure that you bring you all the travel essentials are some the things that can make your family road trips memorable and something that everyone will look forward to each time.
*  This is a sponsored post for Goal Zero, however, all the points and views are my own.
Image courtesy of digitalart at FreeDigitalPhotos.net
Selling a property involves more than just placing your property on a listing and then waiting for an offer to come. The same thing goes for buying a property. You cannot just go through a list and then visit each property one by one hoping you'll find the property that you want to buy. Although there are a lot of sources available that can provide you with the information you need about selling or buying a property, it is still best if you hire the services of a real estate agent. Selling a property on your own is possible but it also has a number of drawbacks. Don't look at hiring a kansas city real estate agent as an extra expense but rather an opportunity to find a prospective buyer or a property to purchase without all the unnecessary the hassles and frustrations.
One of the biggest advantages of hiring a real estate agent is that you can benefit from their skills, knowledge and experiences. A competent real estate agent knows how to listen and can anticipate the needs of their clients. They know how to go about finding the specific property that will meet their preferences and the budget. In representing a buyer, a real estate agent knows how to market the property that will encourage more favorable offers from potential buyers. Your real estate agent would also know how to negotiate as well as go through all the information that you're getting to make sure that you can focus on the most important facts. Aside from the technical aspects of the property such as the land area, mortgage rates and other similar matters, your real estate agent is also familiar with the community and can give you insight of what it's like to live or establish a business in that community. If you want data on schools, hospitals and other similar institutions as well as information on the current economic status of the community, crime rates and growth rate, your real estate agent can also provide you with them. Aside from going through the paperwork, you will also get the assistance you need in reading through the contract or agreement to make sure that you understand everything and avoid any surprises once the agreement has been signed.
Buying and selling a property is a huge financial decision and utilizing the services of a professional such as a real estate agent can make the whole process less complicated and stressful for all parties concerned.
* This is a sponsored post for Remax Mid-states, however, all the points and views are my own.
It's already the last quarter of the year and I'm sure that there are those who are already thinking of what they have already accomplished and are trying to assess just how this year has been for them so far. Were you able to achieve your goals for your professional (or personal) life this year? If you have, then I take my hats off to you. I know that staying focused on a single goal is never easy, more so if there are situations and people who seem to work against you and what you're trying to achieve.
If you're still working towards your goals for this year, let me share with you some quotes that I came across online. I hope they that will help you stay motivated and make the most out of the remaining weeks of 2012:
Concentrate all your thoughts upon the work in hand. The Sun's rays do not burn until brought to a focus. – Alexander Graham Bell
A challenge only becomes an obstacle when you bow to it. – Ray A. Davis
Fall seven times, stand up eight. – Japanese proverb
There are no shortcuts to any place worth going. – Beverly Sills
People do not wander around and then find themselves at the top of Mt. Everest. – Zig Ziglar
All great achievements require time. – Maya Angelou
Ability is what you're capable of doing. Motivation determines what you do. Attitude determines how you do it. – Lou Holtz
                                                                                                              You can't build a reputation on what you're going to do. – Henry Ford
Shaving is a quick and convenient way to remove unwanted hair. For most men, shaving is a part of their daily grooming routine. A clean-shaven face creates a more pleasant impression to others. Although shaving has its benefits, there are also some downsides to it. This includes dealing with razor burns. If you shave regularly, you should know how to get rid or razor burn.
What is razor burn? A razor burn is a skin irritation that is caused by a variety of factors such as using blunt razors, shaving too close and by not using the proper shaving technique. It usually appears a couple of minutes after shaving and lasts for a day or two depending on the severity.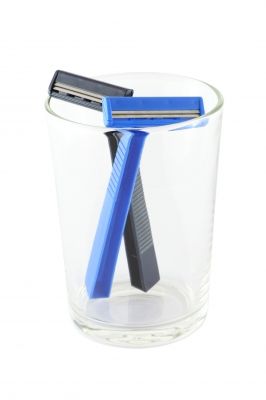 Here are some tips on how to prevent razor burns:
* Use sharp razors. Most razor burns are caused by putting too much pressure as one shaves. If you are using a sharp razor, you don't have to use that much pressure just to have that perfect shave. It is also preferable if you change blades often and keep the razor clog-free.
* Preparation. Make use of shaving creams to prepare your skin. Let the cream stand for a few minutes for the hair to soften. It'll be easier for you to shave if there is a lubricant that will allow the razor to glide smoothly as you shave. You can also apply warm water to open the pores.
* Avoid shaving too closely. You are most likely to get cuts if you stretch your skin as you shave.
* Use hypoallergenic lotion or moisturizers after shaving. There are different products that you can choose from that can help keep your skin moisturized after you shave. Avoid those that contain alcohol because it dries out the skin, can cause skin irritation and will further clog the pores.
Treatment
* Avoid scratching the infected area. It will only cause further irritation and may lead to possible infection.
* Apply aloe vera gel or any cream that has a soothing and cooling effect. Avoid using those with alcohol content because it may only cause further dryness.
* Avoid shaving that particular area of the skin for awhile. Give it time to heal.  Shaving that area again may only aggravate the irritation.
* If it hasn't healed after a few days, there may already be an infection. Consult your doctor. He may prescribe a cream or an ointment that you can use on your skin.
It is always important to keep in mind that you choose your shaving tools properly. Invest in quality razors and creams and moisturizers that are suitable for your particular skin type.
* This is a sponsored post for The Art of Shaving, however, all the points and views are my own.
Image courtesy of Keerati at FreeDigitalPhotos.net