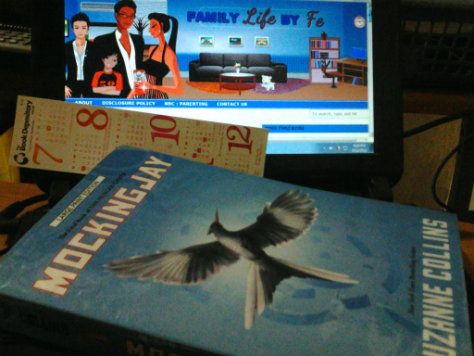 I have been waiting for the mail to arrive since last week because I'm expecting a couple of postcards but when the postman arrived this morning, he handed me a package from The Book Depository. It made me really excited because I am expecting a couple of books that I have won from book giveaways. This one is from Cassie of Citrus Reads. I won her Lazy Days of Summer Giveaway a few weeks ago and when she emailed me to ask for the book that I want, I asked for Mockingjay by Suzanne Collins because I still don't have my own copy of the book and I really want to read the final installment of the amazing series that is The Hunger Games. And yes, I chose the large print edition because I don't want to add more strain to my eyes because I also spend a lot of time in front of the computer.
My son thought that it was the Wimpy Kid book that I've won from another giveaway but I told him that he may have to wait for two more weeks because the book was just shipped two days ago. Now he's thinking of reading Mockingjay while he's waiting for his book to arrive.
Anyway, I would like to thank Cassie for the book; I look forward to reading it during my very rare 'quiet' times here in the house….heheh.
If you're also an avid reader and you want to read book reviews on the latest releases, you can visit her blog. She also has giveaways that you can join if, like me, you would like to win some books, too.