Archive for September, 2012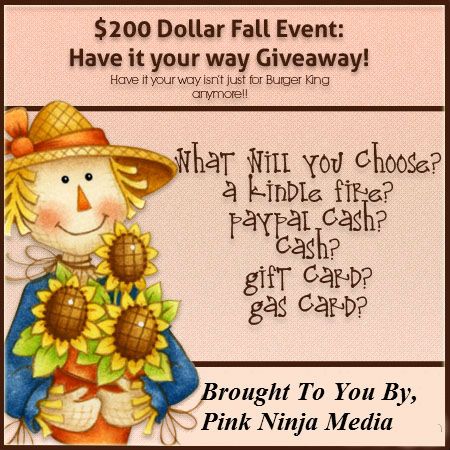 Welcome to The Awesome Have It Your Way BlogGY Giveaway!
This wonderful event is brought to you by,
Jenn's Blah Blah Blog, Dishin' With Rebelle, and Contest 4 That,who will proudly be launching Pink Ninja Media in the next few weeks.
Special thanks to our wonderful co-hosts Zoes Printable Coupons, PrewChatterly Everything Girly, Capri's Coupons,
Simply Shawn & Jenn, Moms Vacation Spots, and Pink Ninja Blogger.
THIS IS AN AMAZING GIVEAWAY BECAUSE AS THE WINNER, YOU GET TO CHOOSE YOUR OWN PRIZE OF UP TO $200! DO YOU WANT A KINDLE? HOW ABOUT PAYPAL CASH OR GAS CARD?  ANYTHING UP TO $200 SHIPPING INCLUDED IN THE GIVEAWAY!
GOOD LUCK !
Details:
Giveaway is open Worldwide.
Giveaway will start on September 20, 2012 at 12:01am EST and end on October 20, 2012 at 11:59pm EST.
One Lucky Person Will Win ANYTHING THEY WANT, valued up to $200 with shipping.
Please use the Rafflecopter form below to enter.
We realize there's a lot of bloggers, so we added extra entries! Earn an additional 25 entries for completing certain tasks on the Rafflecopter. Remember you only have to complete mandatory entries to enter the giveaway, the rest are extra entries. Giveaway runs an entire month so you don't have to finish it in one sitting, remember to come back for daily tasks to earn more. You'll also be introduced to some AMAZING Bloggers, each blogger in this event is awesome and brings something special and unique.
Disclaimer: Family Life by Fe is not responsible for shipment of prize, Jenn's Blah Blah Blog will be responsible for shipping prize to winner. I did not accept any form of payment to help promote this giveaway.
'The same brand of  soap for the whole family' – the skin care practice that I came to regret especially when I realized that it is something that is not suitable to the skin care needs of my family. Our children aren't particular about skin care because for them as long as there's a soap that they can use, they would not complain. But when I saw that they were developing skin rashes and dry, flaky skin, I know that we need to make some changes especially about the skin care products that we use. I started looking for effective skin care products and that's when I came across Cetaphil. Prior to using their products, all I know about Cetaphil is that they are used by babies who have highly sensitive skin. I didn't know that they have skin care products for the whole family that offer a daily, complete skin care system that can restore and maintain healthy skin.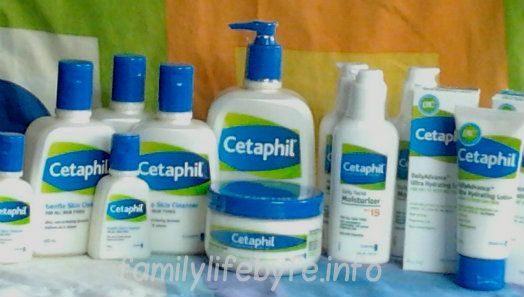 For over 60 years, Cetaphil has continued to offer skin care products that promotes healthy skin. Cetaphil has been tried, tested and trusted by both dermatologists and pediatricians worldwide.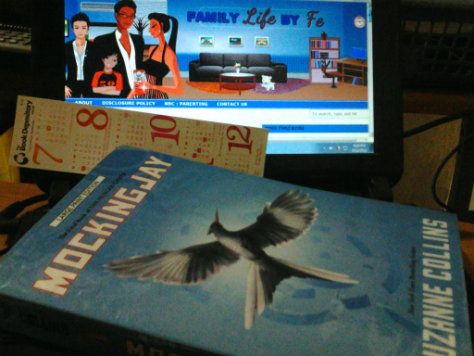 I have been waiting for the mail to arrive since last week because I'm expecting a couple of postcards but when the postman arrived this morning, he handed me a package from The Book Depository. It made me really excited because I am expecting a couple of books that I have won from book giveaways. This one is from Cassie of Citrus Reads. I won her Lazy Days of Summer Giveaway a few weeks ago and when she emailed me to ask for the book that I want, I asked for Mockingjay by Suzanne Collins because I still don't have my own copy of the book and I really want to read the final installment of the amazing series that is The Hunger Games. And yes, I chose the large print edition because I don't want to add more strain to my eyes because I also spend a lot of time in front of the computer.
My son thought that it was the Wimpy Kid book that I've won from another giveaway but I told him that he may have to wait for two more weeks because the book was just shipped two days ago. Now he's thinking of reading Mockingjay while he's waiting for his book to arrive.
Anyway, I would like to thank Cassie for the book; I look forward to reading it during my very rare 'quiet' times here in the house….heheh.
If you're also an avid reader and you want to read book reviews on the latest releases, you can visit her blog. She also has giveaways that you can join if, like me, you would like to win some books, too.

Welcome to the Ball + Chain Jewelry Giveaway!
Hosted by,
Jenn's Blah Blah Blog , Diva Fabulosa and our soon to be launching Pink Ninja Media!
Special thanks to our co-hosts,
Mom to Grandma, The Frugal Free Gal, Pink Ninja Blogger, Simply Shawn & Jenn, and Moms Vacation Spots.
THIS IS ANOTHER GREAT OPPORTUNITY TO WIN SOME AMAZING PRIZES !
GOOD LUCK !
About our sponsor – Ball + Chain Accessory Auction has the latest fashions, trends, and accessories. Enjoy the Name Your Price Auctions held every Tuesday night! The Auctions start at 8pm CST, oh and you'll also receive FREE SHIPPING ON ALL SALES! Find super cute shoes, handbags, jewelry, and so much more! You're not going to want to miss out on their Tuesday Night Auction Fun! The fun starts on their Facebook Fan Page, be sure to check it out HERE Prize:
18′ Necklace with Teardrop Gem Detail
Designer Inspired Cascade Earrings
Gold and Pink Textured Hinge Bracelet
Valued at $70
This wonderful giveaway run from 9/10 at 12:01am EST until 10/1 at 11:59pm EST. Must be 18 or older to enter, and giveaway is open to US residents
Disclaimer: I did not receive any compensation for helping promote this giveaway, nor am I responsible for shipping the prize to winner. Prize will be shipped from directly from sponsor to winner.