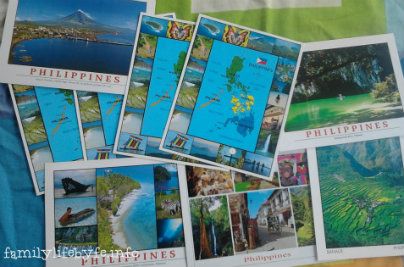 My husband was finally able to visit the local post office the other day and he was able to mail another batch of postcards for Postcrossing. I had 9 postcards due to be mailed since we weren't able to visit the post office because of incessant rains a couple of days ago. I still haven't received any postcards for over three weeks now, I just hope I'll receive some postcards soon. I am also looking for a more efficient way of arranging our postcard collection. My husband made an album but we haven't gotten around to organizing the postcards just yet. There's also a book that's due to arrive two weeks from now, I just hope it doesn't get lost somewhere just like the other book I won from a giveaway.
I still don't see any improvements on how mail is being delivered to our area. Postcards that arrived two weeks apart are being delivered to us on the same day. I have asked them about it but they only say that they have regular deliveries in our area so that we get to receive our mail as soon at it arrives at the post office. It's really frustrating because up to now, I don't see that happening.
Jenn's Blah Blah Blog, Diva Fabulosa and Simply Shawn & Jenn are bringing you an awesome FREE Blogger Opportunity! They will be giving away $200, in their Have it your way event! How will this work? Whatever the winner wants, the winner will get! Kindle Fire, PayPal Cash, Amazing, Wal-Mart, Target! Who cares, they get just what they want! Blogger get FREE Facebook link with the option to purchase additional links! Jenn's Blah Blah Blog had a giveaway just like this called the Sizzling Summer Giveaway that was fabulous, so were going to bring it back over and over and over again! This time Simply Shawn & Jenn has decided to join in the fun to celebrate reaching over 10K fans! About the event
Prize: Whatever you want up to $200 (shipping included) Do you want a Kindle Fire? Maybe an iPod, hummm maybe gift card to Target, oh wait Paypal cash? We don't care we want you to have it your way! So let the games begin, and let's have some fun with this one!
Event will run from Sept 20th until Oct 20th.
Free Facebook
Additional likes $2
Daily Votes $3
Co-host spots $10. (with this you will receive your blog mentioned all blogs posts, FREE Facebook, and FREE Twitter! If you choose this please be sure to add your links in the assigned spots on the form below)
This is indeed another great opportunity to increase your followers and readers!
Interested ? You can sign up for this event, HERE. And please say Family Life by Fe referred you.