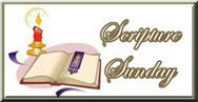 The Lord, Shepherd and Host
The Lord is my shepherd; I shall not want.
In verdant pastures He gives me repose;
Beside restful waters He leads me; He refreshes my soul.
He guides me in the right paths for His name's sake.
Even though I walk in the dark valley
I fear no evil; for You are at my side
With Your rod and Your staff that give me courage.
You spread the table before me in the sight of my foes;
You anoint my head with oil; my cup overflows.
Only goodness and kindness follow me all the days of my life;
And I shall dwell in the house of the Lord for years to come.
My son attended his first session of the Saturday Math program this morning. Although it has been raining since yesterday, he is still very excited about it. It was held at one of the public schools here in our city.
image from freedigitalphotos.net
The Mathematics Teachers Association of the Philippines and the Department of Education is offering a Math program for regular and talented pupils/students. For a nominal fee of two hundred pesos, participants will attend six sessions of Saturday classes from 8am to 12 noon. The program for regular students will be from July 21 to August 25, 2012. Those who belong to the top 15th percentile of their grade level will have their  sessions from October 27 to December 15, 2012 with a nominal fee of two hundred fifty pesos.
The aim of the program are as follows :
* to provide the students the opportunity to explore Mathematics without worrying about taking tests
* review the materials covered during the previous school year to help them do well in Math for the current school year
* prepare the Grade 6 and 4th year high school students for entrance examinations for first year high school and college levels
* the program also aims to prepare the talented students for the Metrobank-MTAP-DepEd Math Challenge Competition
I do hope that my son will greatly benefit from the program and that his Math skills will improve a lot. I will post an update once the six sessions are over.
Have a great weekend !