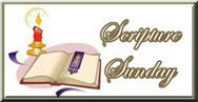 The Lord, Shepherd and Host
The Lord is my shepherd; I shall not want.
In verdant pastures He gives me repose;
Beside restful waters He leads me; He refreshes my soul.
He guides me in the right paths for His name's sake.
Even though I walk in the dark valley
I fear no evil; for You are at my side
With Your rod and Your staff that give me courage.
You spread the table before me in the sight of my foes;
You anoint my head with oil; my cup overflows.
Only goodness and kindness follow me all the days of my life;
And I shall dwell in the house of the Lord for years to come.
My son attended his first session of the Saturday Math program this morning. Although it has been raining since yesterday, he is still very excited about it. It was held at one of the public schools here in our city.
image from freedigitalphotos.net
The Mathematics Teachers Association of the Philippines and the Department of Education is offering a Math program for regular and talented pupils/students. For a nominal fee of two hundred pesos, participants will attend six sessions of Saturday classes from 8am to 12 noon. The program for regular students will be from July 21 to August 25, 2012. Those who belong to the top 15th percentile of their grade level will have their  sessions from October 27 to December 15, 2012 with a nominal fee of two hundred fifty pesos.
The aim of the program are as follows :
* to provide the students the opportunity to explore Mathematics without worrying about taking tests
* review the materials covered during the previous school year to help them do well in Math for the current school year
* prepare the Grade 6 and 4th year high school students for entrance examinations for first year high school and college levels
* the program also aims to prepare the talented students for the Metrobank-MTAP-DepEd Math Challenge Competition
I do hope that my son will greatly benefit from the program and that his Math skills will improve a lot. I will post an update once the six sessions are over.
Have a great weekend !
Marketing makes an important contribution to the success of a business, regardless of how big or small that business may be. In the business world, competition can be stiff especially in industries that already have a lot of major players. For a small business to be able to create a presence in the industry where it belongs, it must be able to come up with effective marketing strategies to create awareness on their brand, products and services. Major companies may have the resources to launch intensive marketing campaigns but through online marketing, small businesses are able to promote their business even in a shoe-string budget.
Utilizing the Services of Internet Marketing Companies
Through effective website promotion, a business website will be able to get the traffic they need and reach a wider market. Through the services of an internet marketing company, potential customers are able to acquire the information they need about the products and services that the company offers.
I would say that I am among the huge percentage of consumers that are also active internet users. Whenever I need information about a product or a service, I usually go online and search for the website that will provide me with the information I need. I also use the internet to read reviews and consumer reports about the products and services that I am interested in. All of these help me make informed decisions on whether or not I would patronize a product or avail of a particular service.
Online marketing services have experts that can formulate effective online marketing strategies that will help their clients create the online presence that they need. They have SEO (Search Engine Optimization) experts that can provide the traffic that their client's website needs. They also know which type of online marketing strategy would yield the best results for each of their client.
Increased web traffic, stronger online presence and improved search engine ranking – these are just some of the many services that online marketing companies offer. And small businesses can avail of these services at very affordable rate.
Importance of Internet Marketing
Through the expertise of online marketing companies, small businesses are given the leverage they need to compete against their most established competitors. They are able to create product identity and awareness and attract the attention of potential clients and the general public. Small and medium enterprises  are given the opportunity to show consumers why their products and services deserve to be patronized.  Even with a limited marketing budget, SMEs are able to reap the benefits that online marketing offers.
*This is a sponsored post for OrangeSoda, however, all the points and views are my own.