City Ordinance No. 1720-2011, or the City Environment Code,  was passed last year by the Sangguniang Panglungsod ng Sta. Rosa.  The City Environment Code, the first of its kind in the province of Laguna, is an extensive compilation of rules and regulations that aim to effectively manage and improve the city's environment. It has provisions for Land Resources Management, Water Resources Management, Air Quality and Noise Management and Energy Saving Practices, Integrated Waste Management and Institutional Mechanisms. One of its most important provisions is the prohibition of the sale and use of plastic bags and polystyrene or what is commonly known as Styrofoam.  According to Sections 61, 62 and 63 of the City Environment Code, business establishments are not allowed to provide plastic bags to their customers as a tool to carry or transport the goods that they have bought including dry goods and food products. There is also a prohibition in using polystyrene and other similar products as containers for foods, drinks and other goods that are being commercially sold. A ban is also enforced on the use of plastic flaglets, or 'banderitas', during fiestas and other similar occasions in the city and its barangays. Those who will be caught violating the city ordinance will either pay a fine or perform community service. 
To create awareness about City Ordinance No. 1720-2011, the "Ayoko ng Plastik!" campaign was launched last February 20, 2012. Spearheaded by City Mayor Arlene B. Arcillas, a caravan was conducted in the city's major malls and public markets where they not only gave away flyers and posters about the City Ordinance but also dozens of eco-friendly bags that residents can use whenever they shop.
I am really impressed by how residents and commercial establishments have responded to this new ordinance; paper bags are used instead of plastic bags and residents bring their own baskets or eco-friendly bags whenever they shop. Even the smaller business establishments are starting to comply with the ordinance.
We went to the supermarket the other day and instead of the usual plastic bags, they now have paper bags. 
We also bought some eco- friendly bags which are being sold for 10php each: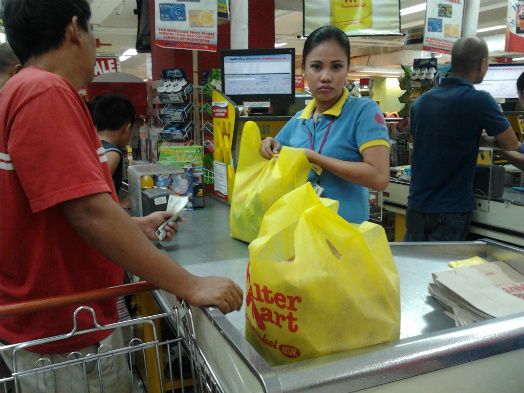 I just hope that the strict implementation of ordinances and laws that protect the environment will be observed all over the country. We do not need another major disaster for us to be reminded of how important caring for the environment is.