Archive for September, 2011
Having an MBA not only benefits you personally but also gives you more opportunities for career advancement. It will enhance your knowledge in business strategies and develop your leadership skills. Pursuing an MBA involves rigid training which you can apply in the daily operations of your business if you decide to eventually start a business of your own.
My brother has been managing a restaurant for quite awhile now and he is seriously thinking about pursuing a masters in business administration degree. He knows that it will help him gain the knowledge and skills he needs in becoming a more effective manager. It will also allow him to have a better understanding of the other aspects of business not just the managerial aspect of it. Attending regular school may not be possible for now because he still has a full time job which is why he is seriously considering enrolling in an online course. He has been browsing online to find an ideal online business school. He said he can squeeze in a few hours a night for his studies and couple of more hours during weekends. I can see that he is truly committed to it which is why I have no doubt that he will get his MBA in no time.
I am participating in a blogger campaign by Bucks2Blog and was compensated. However, the views and opinions are my own.
This is my entry to the Week 16 of the Techie She Lucky Blogger Weekly Giveaways. This week's prize is $10 Paypal credits from Mel Cole of The Jolly Toes.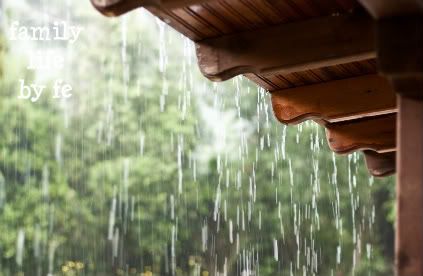 For someone who has been living in the Philippines all her life, you would think that by now, I am used to dealing with rainy days. Unfortunately though, there are still days when I find it hard to stay upbeat and jolly when it feels like it has been raining for like forever. One advantage of being a work-at-home mom is that I don't have to deal with commuting to and from work even if it's raining very hard. But the thing is, it's hard to stay focused with work when you can hardly keep yourself awake because the constant rain makes you feel very sleepy.
It has been raining (again) since early this morning and I have been trying to stay awake because I still have a couple of things to do (which includes finishing some online tasks and updating my blogs). After I'm done I 'm going to take a quick nap then go back to work afterwards. Oh, I forgot, I still have to help my son review for his last day of exams tomorrow. I do need to take a nap if I want to have the energy for what needs to be done later.
Hope you're all having a great week so far.
Kayce is hosting a mini giveaway with $10 Paypal cash up for grabs. This is in celebration of the launch of her new blog, Lucky Kayce.
The giveaway will end on September 30, so you still have a couple of days more to join. Interested ? Visit Lucky Kayce and be the lucky participant to win $10 Paypal cash.
This is my entry to Techie She Lucky Blogger Weekly Giveaways Week 14. This week's prize is $10 paypal credits from Sheila of Picture My World
I'm sure that all of us have a dream house; a place that is built and designed according to our preferences. We want it to be a place where our whole family can enjoy a comfortable life—a place where we can share and create wonderful memories with the people that are dear to us.
Our family have our own idea of what dream house would look like and we're working really hard to pay for our house's monthly mortgage and when the time comes that we have fully paid for it, we can start renovating it the way we want it to look like.
For now though, I would like to share a picture of the modern houses which was made by my husband (he used popsicle sticks to create them). Can't decide yet which is going to be 'the' dream house…lol.