This is my entry to
Techie She's Lucky Blogger Weekly Giveaways Week No. 4

. 
This week's prize is one year free blog hosting 
sponsored by Belleverlasting of
"Belleverlasting: My Small Blended Place in the World Wide Web"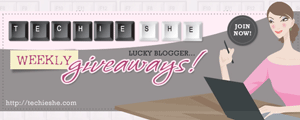 I have been meaning to join this meme but somehow I haven't gotten around to actually making an entry. Finally, on it's fourth week, my entry is finally up.
Week 4's word of the week is web.
The world wide web has been a constant part of my life for years now more so these past few years ever since I started blogging. I have learned (and still learning) a lot from the web and more importantly, made a couple of friends who are fellow bloggers as well. I spend a lot of time online everyday not only because I manage multiple blogs but because I also earn from it.