Weekend Blog Follower is back and I'm really excited because since this blog is quite new, joining this meme will definitely give this blog the exposure it needs while gaining more followers in the process.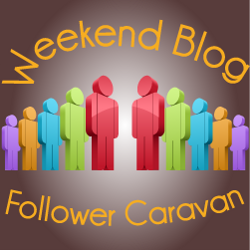 Weekend Blog Follower Caravan is a simple online blogger-helping-blogger weekly meme. It was designed for bloggers to help each others in terms of blog followers either through Google Friend Connect and email subscribers.
WBFC now has a new home — OnlineBiz and Resources. If you want to participate and join the fun, just click on the badge.
If you are now a follower, please don't forget to leave a comment on this post (with your blog URL, of course) and I would gladly follow you back.
Enjoy the rest of the weekend and happy blogging !
When hubby and I would come across a TV series that we find truly interesting, we would always end up watching them every week. What I notice though is that most of them are cop shows, procedural dramas and medical dramas. The series that would be on top of list would be 24. We have been a big fan of the show since its first season and we just love the fast paced action scenes and the 'real time' concept of the show . We also like CSI, Criminal Minds and other cop shows like Law and Order: SVU and NCIS.
When it comes to medical dramas, I like Grey's Anatomy and House. Notice that I used 'I' because hubby doesn't like to watch them as much as I do. From the stories that they feature down to the set design, they try to make them as realistic as possible. Hubby even mentioned that he didn't know that a scrub pant can also be trendy and stylish. I told him that I'm sure there are stores that offer a variety of uniforms for nurses that are not only functional but also fashionable. Anyway, we have been catching up on some of the episodes that we've missed. Good thing some cable channels are showing reruns from previous seasons. We sometimes watch them online but hubby said we can't really enjoy watching them (especially the action scenes) on the small screen of the laptop. What I would do is check out when our favorite shows are being shown so that we don't miss them again. Good thing though that shows like Criminal Minds are only shown late at night because we definitely don't want the kids to watch them because the show's plot is not suitable for them.
Anyway, we've watched 4 episodes of CSI this afternoon and hubby said he's had enough for today…lol. We might resume watching after dinner though although I don't know which show it'll be.
Have a great weekend every one.
In as much as I would like to call it spring cleaning, it wouldn't sound right
because we don't have spring here in the Philippines. That's why I opted instead for 'house cleaning'.
Anyway, that's what's on the top of our to-do list this week. Since we don't have plans of going anywhere this Holy Week, we decided it would be the perfect time to clean the house. We have our own 'assignments', so that we can accomplish a lot of things in three days time. We first ask our kids to through their cabinets and segregate their things, putting those that they do not need in a box. Clothes that no longer fit them go on a separate box as well.
If we still have the time (and the energy), we might also try rearranging our furniture. My son even hinted that a wall fountain at the corner might add 'character' to our house. He can be funny at times, I don't even know where he gets his ideas. We just told him that maybe if we get a bigger house, we might just consider his suggestion.
Day 1 is almost done for us, hopefully we'll accomplish more by tomorrow. We're currently preparing dinner then after that the kids will get to play with their xbox (that's their 'reward' for being cooperative).
Have a blessed week everyone !
Today is Palm Sunday. It marks the start of Holy Week. Catholics flock their churches bringing with them their palaspas or palm fronds to commemorate the triumphant entry of Jesus into Jerusalem. Each of these palaspas are blessed with holy water by the priest.
We woke up earlier than usual because we knew that there'll be a lot of people at church today. After buying our own palaspas for 15pesos, we made our way towards the side of the church. True enough, there were a lot of people. We waited for the 7a.m. mass to end (we are attending the 8:30a.m. mass).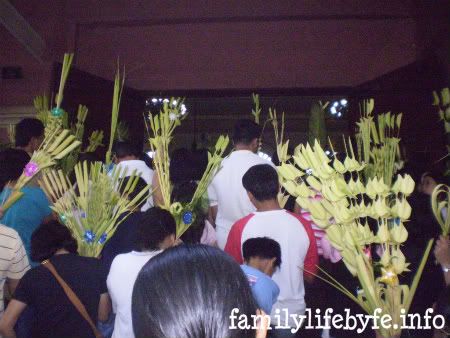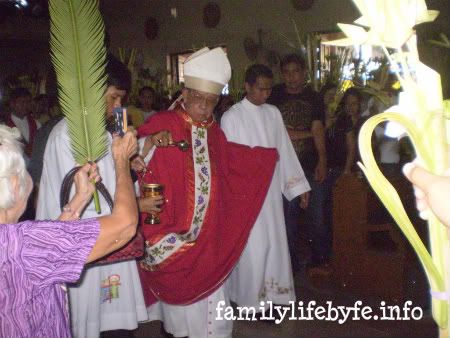 Even though there were a lot of people inside ( and even more people outside), it was a solemn mass that allowed all those attending a chance to reflect on what the celebration means.